Non-Instructional League - Grades 3rd-6th (Each grade level will have its own league) League Season Sunday, August 28th, 2022 through Sunday, October 2nd, 2022 Games will begin at 12:30 at Valley High School. Sign-ups August 15th during Meet the Team/Carnival, Deadline is August 24th, 2022. Entry Fee $25 per player (a team of 8 will pay $200 as a one-time fee) Each team will need to provide their own shirt Each player will have to sign a waiver form. Makes check payable to Valley High School Booster Contact info: Tracey Vice - 740-464-4836 or Kristi Hall - 740-970-2055

Valley Band: Help Wanted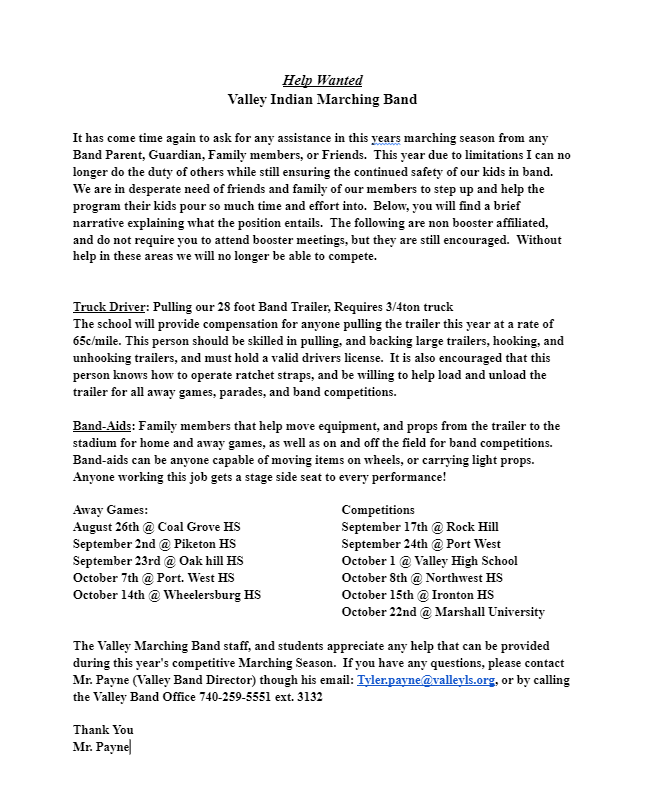 Valley Middle School Transportation Changes ​Buses will pick up VMS students before VHS students this school year. VMS bus riders will be dismissed before parent pick-ups. There will be no parking permitted in front of the building starting at 2:15 until the buses leave at approximately 2:35. Cones will be placed to clear the front parking lot at 2:15. If you need to pick your child up between that time frame, please call the office to make arrangements. Students getting picked up will be dismissed from the building as soon as the buses leave. The cones out front will be removed, and then parents of 5th graders may park in the front. Parents parking in the front will need to park in two single-file rows. Only 5th graders and siblings of 5th graders will be dismissed out front. If you are a parent of a 5th-grader, please do not arrive before 2:35 because there will not be available parking. If you are a parent of a student in 6th-8th grade, you will pick up your child in the back parking lot. We will use the cone system in the back to stop traffic for students in 6th-8th grades. All parents must be parked in a parking space and remain parked until the cones in the back have been removed and the school staff has signaled to begin leaving. During the first few weeks of school, morning dropoff and afternoon pickup tend to be more congested as we are all adjusting to new routines, so please be patient with us and each other.
LL Sweets and the HS Volleyball have teamed up to raise funds for the VALLEY HS VOLLEYBALL TEAM On Thursday, August 25th, 2022, LL Sweets will donate 20% of all pre-taxed food sales from guests ordering who mention 'Valley Volleyball'.

Valley Local Schools Open House August 15th from 5pm to 7pm.

Emergency Responder Community Career Fair, Hosted by Shawnee State University, Ohio State Ohio Patrol, and Portsmouth Emergency Ambulance Services, Inc. Thursday, July 28, 2022, Noon-2 p.m., Shawnee State University Center. Registration no required (Employers register at
https://bit.ly/ER072822
. Find out about job openings and available training for: Security/Police Officers, Paramedics/EMT's and Firefighters.
VALLEY BAND FUND RAISER - SONORA MEXICAN GRILL - LUCASVILLE - ON MONDAY AUGUST 1, 2022, SONORA'S WILL DONATE 20% OF ALL PRE-TAXED FOOD SALES FROM GUESTS ORDERING AT THEIR LUCASVILLE LOCATION ONLY WHO MENTION "VALLEY BAND".

Valley Middle School and Valley High School will be offering a vaccine clinic for required 7th and 12th grade immunizations for school attendance. Please see the flyer for details. Consent forms are attached and must be completed and turned in the school nurse the first week of school, but must be turned in before vaccine clinic dates. Click here for:
https://www.valleyindians.net/article/788612

IMPORTANT INFORMATION FOR THE UPCOMING SCHOOL YEAR!!! All Parents/Guardians – If you haven't already done so, please login to FinalForms to complete and sign all required forms for the upcoming school year. This includes students attending the CTC. Students in grades 6-12 may also sign their forms at this time. Elementary Parents/Guardians - It is very important for you to update your child's transportation information as soon as possible! This will give the secretary time to coordinate the dismissal schedule. As you can imagine, it gets a little crazy at the end of the day! Finally, the free breakfast and lunch program that was made available by the state to the entire district the last two years will not be available for the upcoming school year. Please make sure you fill out a lunch application for this year. You can find a link to the online application on your child's FinalForms profile. Enjoy the rest of your summer! See you August 17th!
Mary's Spirit Shop and Printing, 2109 Gallia St., Portsmouth, has teamed up with the Valley Band Boosters to raise funds for the Valley High School Band. The week of July 25th-30th, 2022, Mary's will donate a percentage of all pre-taxed sales from guests ordering who mention "Valley Band".
Valley Local Schools will hold a Special Board Meeting on June 09, 2022, at 7:30 pm.

ATTN HIGH SCHOOL GIRLS - OPEN GYM FOR VOLLEYBALL- SEE ATTACHED FOR SCHEDULE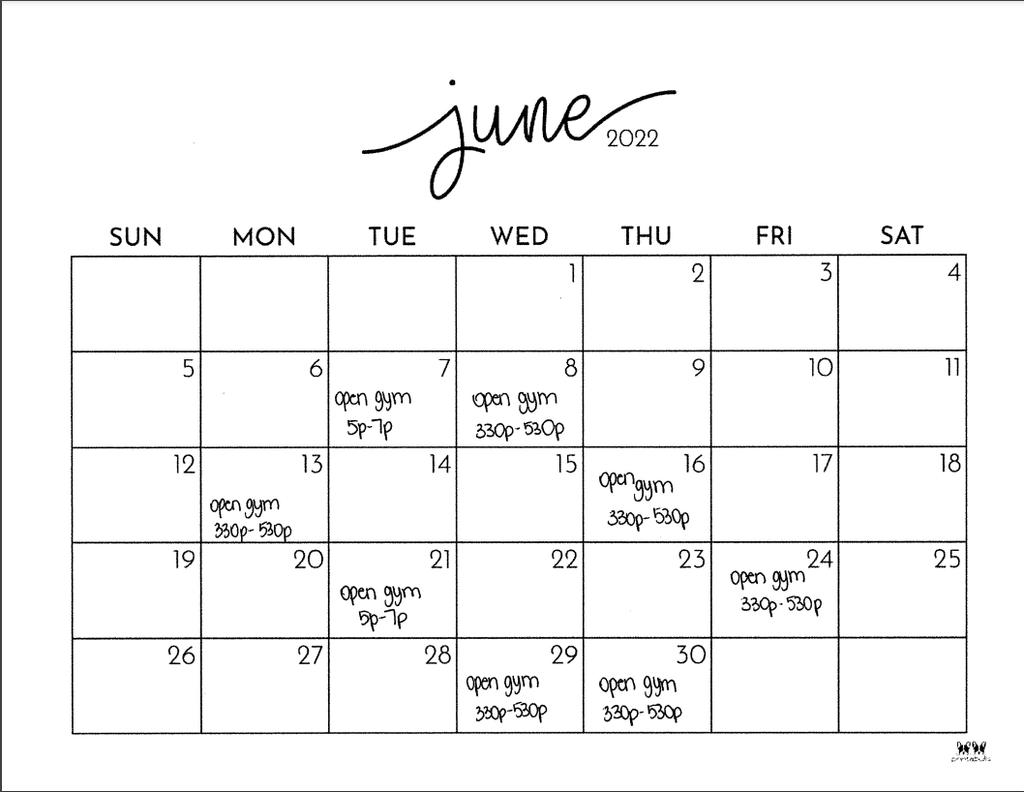 VMS Cheer Yard Sale - Saturday, June 4, 2022 - 8AM to 11 AM. - Valley Middle School Cafeteria Please come out and support the VMS Cheerleaders. There will be clothing, toys, household items and many more items to choose from. GO VALLEY!!!!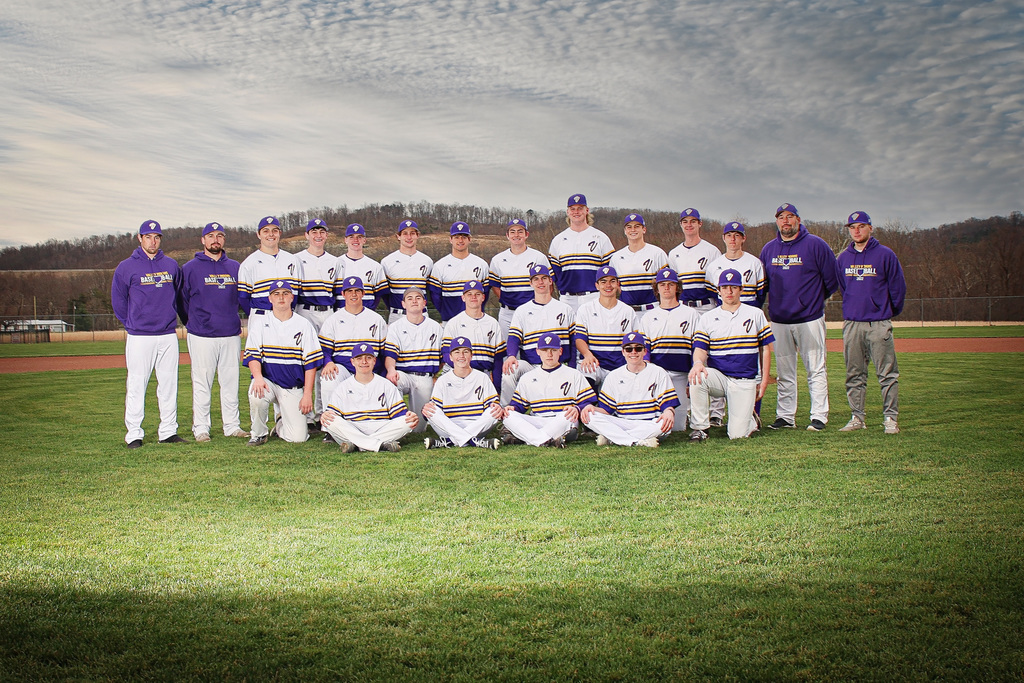 LL Sweets and the Valley Band Boosters have teamed up to raise funds for the Valley High School Band. On Thursday, June 2nd, 2022. LL Sweets will donate 20% of all pre-taxed food sales from guests ordering who mention "Valley Band".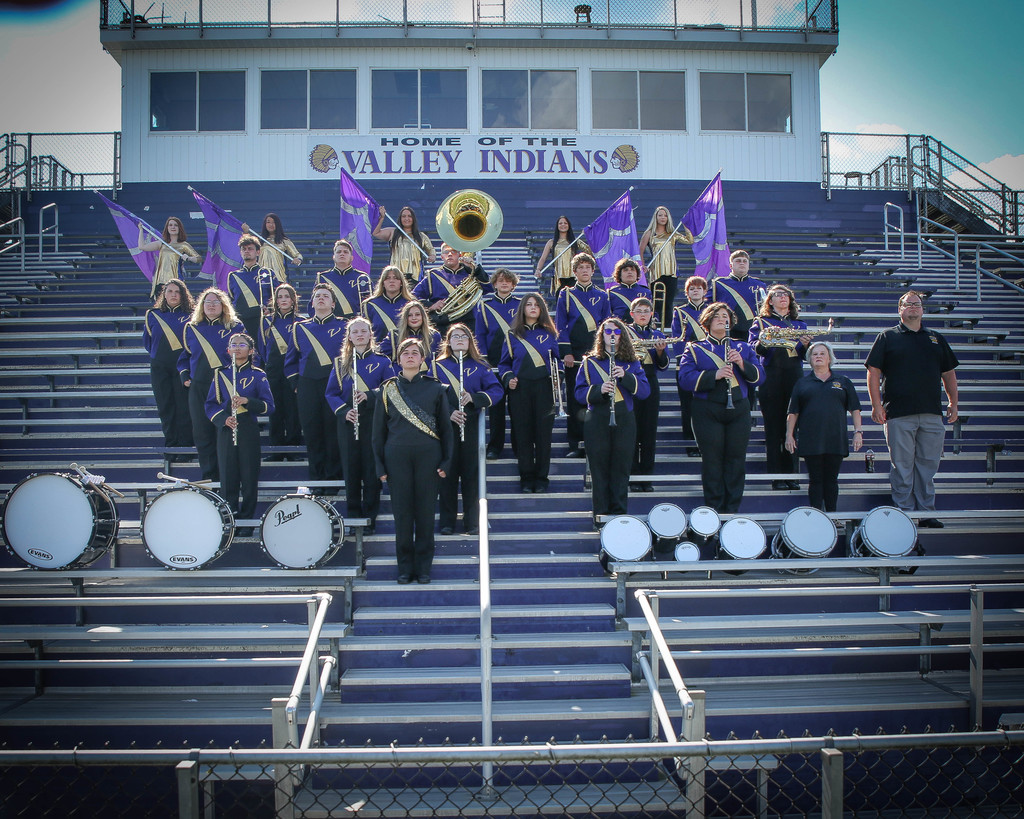 Summer Food Application 2022 FREE SUMMER MEALS FOR KIDS! Valley Local Schools will again be participating in the Summer Meals Program. Students whose families meet the income requirements and live in the Valley Local School District will be able to pick up food throughout the summer. Please fill out the application to ensure your family is on the list as there are limited slots available. Meal pick up will be every Wednesday starting on June 8 and ending on August 3rd. Pick up location is at Valley Elementary School and pick up time is 9:00 to 10:00am. Please click here to fill out the application form:
https://docs.google.com/forms/d/e/1FAIpQLSdti-6aP3IrVO_FP73ubFEEK7CWZkoD7mebO8m1c0Fp4m4rug/viewform?vc=0&c=0&w=1&flr=0

Congratulations to the VHS Boys on reaching the District Championship Games! Division IV Southeast District Championship Games (First Team Listed is the Home Team) 4:00p Lucasville Valley v. Fairfield Leesburg 7:00p Whiteoak v. South Webster We will follow the same pregame times as the District Semifinals. Teams will get their allotted warm up times. Tickets will go on sale this afternoon/evening here:
https://ohsaa.hometownticketing.com/embed/event/15078